20 Sep

Thrive Worship Will Release Let's Have Church EP Sept. 24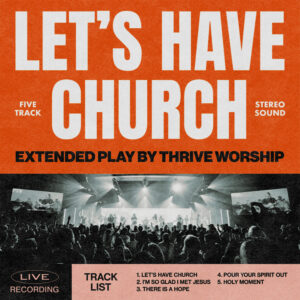 With Songs From "A Church For People Who Don't Like Church," The EP Focuses On Unwrapping The Gospel To Everyone
20 September 2021 – Nashville, TN/Sacramento, CA – Integrity Music announces the latest project to release from Thrive Worship. The five-song live EP, Let's Have Church, drops this Friday, September 24.
Created from an overflow of songs being poured out within the team, a constant theme of the early church arose and became the backbone of this new release. Let's Have Church promises to be high in energy and celebration, restoring the personalness and yet community, the fun and beauty of what Church is called to be. The project includes five live songs, ending with a radio version of its first single, "Pour Your Spirit Out," which shares the personal testimony of co-founder Corbin Phillips and his healing from 19 years of dealing with panic attacks. Please click here to find out more.
Thrive Worship and its founding leaders – Phillips, along with Peter Burton and Charmaine Wells – is the global worship team of Bayside Church, a multisite movement based in northern California. Being part of the current fastest growing church in the country, Thrive Worship is a group of diverse singers and musicians across seven campuses, expanding their creative reach while keeping the same core passion and message. Working as a worship family, they express the following approach – "a church for people who don't like church" – with songs that are focused on unwrapping the Gospel to everyone. After signing with Integrity Music in 2018 and releasing their debut album A Thousand More, with the new EP Let's Have Church, Thrive Worship continues to pursue its call to equip the church with truth and faith, offering songs of hope for the future and love for our Savior. 
"Thrive Worship is just an extension of what's happening in our walls," Corbin Phillips explains. "We know when we're writing songs from the heartbeat of testimonies within our church, of our own testimonies, or what we've seen God do in our services." 
He continues, "As we entered into this project, we were pulling from [about] 60 songs. We felt like God was pouring out on us but, at the end of the day, I think this idea of what God said in Acts 2, that in the last days that He would pour His spirit out on the church, we're seeing God's spirit in our lives. We're seeing God's spirit being poured out on our church right now in a way that I've personally never seen in the 20-odd years I've been coming to this church. We, as Thrive Worship and as songwriters, have a responsibility right now to equip the church with truth and with the Gospel and with the mechanisms to, share and to grow that faith." 
For the latest information about Thrive Worship, please visit Thriveworship.band.