05 Aug

BIG DADDY WEAVE ANNOUNCES THEIR "ONLY THE BEGINNING TOUR 2022" WITH SPECIAL GUESTS AUSTIN FRENCH AND HANNAH KERR

Tickets For The Anticipated 20-City Fall Tour Are On Sale Now

4 August 2022 – Nashville, TN – Transparent Productions is excited to announce Big Daddy Weave's "Only The Beginning Tour 2022" this fall. The 20-city tour will kick off October 5 in Davenport, IA, and will wrap on November 20 in Myrtle Beach, SC, and feature special guests Austin French and Hannah Kerr. The full tour listing is below and tickets are on sale now – click HERE to purchase and for more information.

"So many of us have experienced loss and tragedy over the last couple of years that feels like the end of a season or a relationship or a certain path we've been on in life," Big Daddy Weave collectively shares. "What we love about life in Jesus is that He is the God of new beginnings. Wherever we are right now is only the beginning of what's ahead in Him, and we're excited to celebrate that message with all of you on the upcoming Only The Beginning Tour."

Known for honest songs that tell personal stories of freedom in Christ, fans have long admired the band for their openness. With songs such as "My Story," "The Lion and the Lamb," "Overwhelmed," "Alive," "Redeemed," "I Know," and "All Things New," Big Daddy Weave has become one of the most beloved bands in Christian music. Millions have taken their anthems of Jesus's chain-breaking love as their own and sung along to songs about the radical act of redemption. It was at the beginning of 2022 when the men of Big Daddy Weave – Mike Weaver (lead vocals, guitar), Jeremy Redmon (guitar, vocals), Joe Shirk (saxophone, keys, vocals), and Brian Beihl (drums) – found themselves needing comfort and assurance when founding member and Mike's brother, Jay Weaver, went to be with the Lord on January 2.

After Jay's funeral and the days following, with testimony after testimony of how Jay and the group have been used, the group wondered how they could go on, but their question soon became, "How could we not go on?" Their willingness to go through whatever doors God opens for them has kept them going since their early days as students at the University of Mobile, and their spirit of dedication to their calling and their craft shows up in everything they do.

Now choosing to hit the road again to share their songs with the masses, Big Daddy Weave is thrilled to have Austin French and Hannah Kerr join as their special guests. "I'm looking forward to these nights," French shares. "I believe they will be special and I'm excited to watch the Spirit move on the Only The Beginning Tour."

Kerr adds, "I have always wanted to tour with Big Daddy Weave because of their reputation for putting ministry first. That is so important to me, and I can't wait to see what God does on this tour. These nights are going to be amazing times of stories, songs, and worship, and I'm praying that each night will be an opportunity for people to put a stake in the ground for themselves and their families and declare a new beginning with God."

_______________________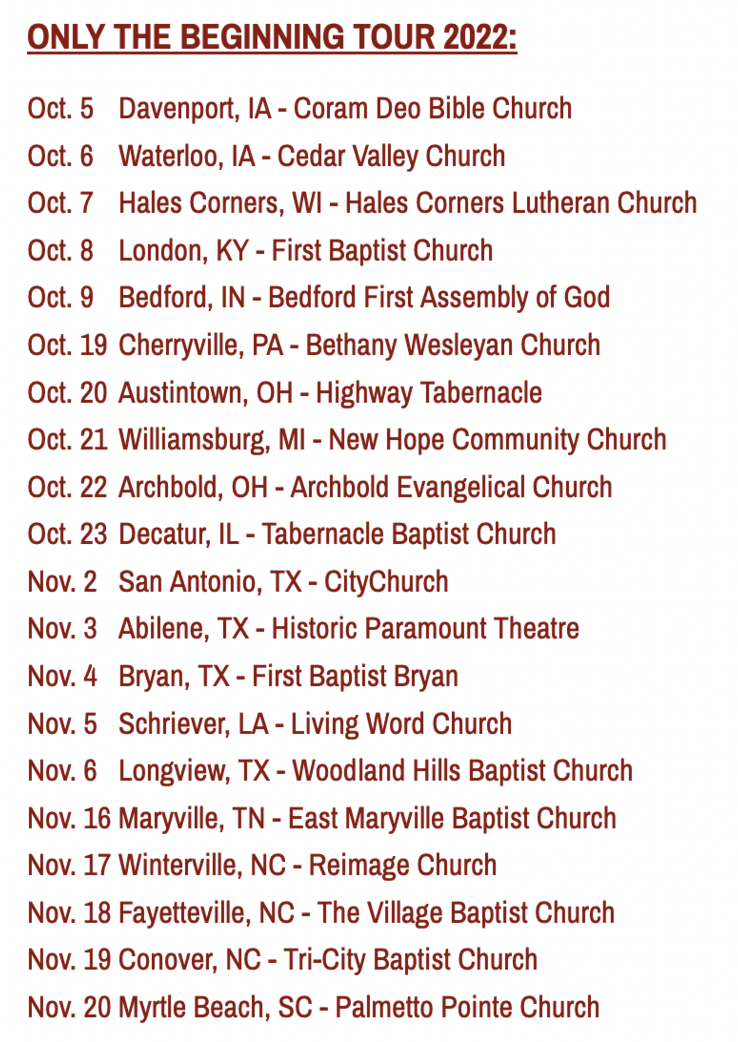 _______________________
ABOUT BIG DADDY WEAVE: Big Daddy Weave is one of Christian music's most beloved artists. A mainstay at radio, the band has achieved multiple No. 1 singles, including "Alive," "Love Come To Life," "Redeemed," "The Only Name (Yours Will Be)," "Overwhelmed" and "My Story." RIAA Platinum-certified "Redeemed" became an anthem of unprecedented impact when it spent 11 weeks at No. 1, was dubbed "Song of the Year" at the first annual K-LOVE Fan Awards, and earned GMA Dove Award and Billboard Music Award nominations. Their follow-up hit, "The Lion and The Lamb," has become one of the genre's most-streamed songs, and their song catalog has an astounding 285 million career on-demand streams.
Big Daddy Weave members are Mike Weaver (lead vocals, guitar), Jeremy Redmon (guitar, vocals), Joe Shirk (saxophone, keys, vocals), and Brian Beihl (drums). The band has released nine full-length projects and amassed more than one million units in album sales and has received numerous honors including a GMA Dove Award, ASCAP and BMI Awards, and the prestigious Rich Mullins Artist Impact Award, among others. BigDaddyWeave.com.
_______________________
ABOUT AUSTIN FRENCH: Growing up in small-town Georgia, young Austin dreamed of writing songs as a means to share his faith and passion for Jesus, and being surrounded by a musical family gave him the opportunity to grow towards that goal. As he began to develop his gifts, Austin began touring while in high school, taking his music to stages, churches, and anyone who would listen. At the age of nineteen, he began leading at Journey Church in Tifton, Georgia, and eventually became their full-time worship pastor. In 2014, Austin French was featured on the ABC TV show "Rising Star" where he won the hearts of millions of viewers – including guest judges Ludacris, Ke$ha, and Brad Paisley. Austin competed his way to the finale, finished as the runner-up on the show, and had the opportunity to share the stage with multi-platinum recording artist Josh Groban. Austin's hit singles "Freedom Hymn," "Born Again," "Why God", and "Wake Up Sleeper" went on to chart at Christian radio and on Billboard Hot Christian Singles. AustinFrenchMusic.com.
_______________________
ABOUT HANNAH KERR: Singer-songwriter and Curb|Word recording artist Hannah Kerr believes that God has called her to minister to people through music that tells of His goodness. In the six years since her debut release Overflow, Hannah has walked through some formative seasons, navigating college, young adulthood, marriage, and the challenges that coincide with figuring out who you really are. The road has not always been easy but on the other side, Hannah seems to have found her voice. Overflow, which Hannah released when she was just 19 years old, was a strong debut, including radio hits like "Warrior" and ASCAP Christian Award-winning "Your Love Defends Me," co-written with Matt Maher. With the successful release of her Christmas album soon after, you got the sense that Hannah Kerr was not an up-and-coming artist, but rather an artist who had already established herself well. But, Hannah had more growing to do—a process she chronicled through her songwriting on her 2019 EP, Listen More. Hannah is currently working on her second full-length album with plans for its release in 2023. Hannah lives in Nashville with her husband, Jason Earley, and their dog Elliott. HannahKerrMusic.com.
_______________________
ABOUT TRANSPARENT PRODUCTIONS: For over two decades, Transparent Productions has been one of the largest producers of Christian concerts, tours, and festivals across the U.S. in churches, theaters, arenas, and amphitheaters. In 2022 the company will produce nearly 400 dates nationwide. Visit them at TransparentProductions.com.