16 Dec

BEN FULLER MAKES DEBUT IN 2022 WITH ALBUM AND SONG "WHO I AM"

Touted By Pandora As An Artist To Watch In 2023;
Set For Spring Run With Casting Crowns' The Healer Tour

16 December 2022 – NASHVILLE, TN – 2022 was quite a year for artist and songwriter Ben Fuller. He released his first album, his debut single hit No. 1 for multiple weeks, he toured all around the U.S., and Pandora named him one of the Christian/Gospel Artists To Watch in 2023, all adding up to be much more than this Southern Vermont-raised dairy farmer ever expected in his lifetime, let alone in one year.

Fuller's eight-track debut Who I Am (Provident Label Group/Sony Music, listen HERE) dropped in September, and the album's No. 1 title track has more than 20M streams LTD (don't miss the powerful music video). Yet, most of all for Ben Fuller it's his ministry that keeps him fueled.

Motivated to change from a life that was spiraling into drugs and alcohol, he moved to Nashville in 2018 to pursue a career in country music. Soon after, when a family he was close with invited him to church one Sunday, he walked into an auditorium filled with 3,000 people and knew that he would write and sing music for Jesus for the rest of his life. He quickly fell into his newfound faith, songwriting with a burning desire to share what God did to turn his life around. Click HERE to view his testimony, which has received more than 3M views since it was posted in October.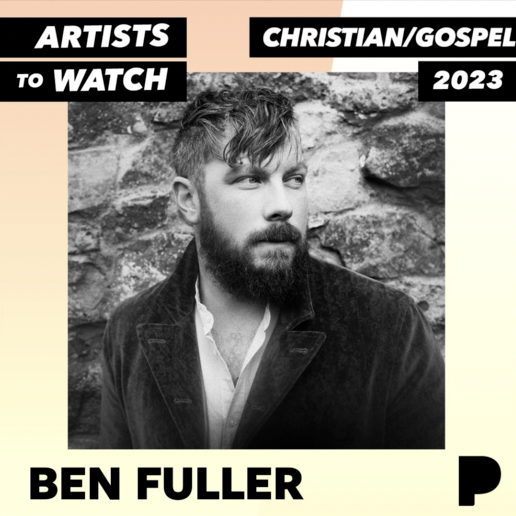 It was recently announced that Fuller was named one of Pandora's Artists To Watch in 2023. Joining an exclusive list that includes Blessing Offor, Anne Wilson, and Naomi Raine, Pandora touted ten artists In Christian and Gospel music poised for even more greatness in 2023.
He spent the year touring with Unspoken, Zach Williams, as well as numerous music festivals, and he will continue to embark on the road well into next year when he joins Casting Crowns' The Healer Tour in the spring. He's currently sharing his songs and stories live opening for Williams' holiday run of the "I Don't Want Christmas To End Tour." Be sure to visit the most updated schedule HERE.
Fuller's unflinching honesty about his past invites people to share their stories and personal pain with him, and his music continues to make an impact wherever he goes. He has previously shared, "My past and present are recorded in lyrics and melodies – all wrapped up in God's grace and redemption and how turning my life over to Him has changed my whole world. I pray for all who take the time to listen to Who I Am, that God draws them nearer than ever before."
For all of the latest information, visit BenFullerOfficial.com and his social links below.