13 Aug

"What If" Matthew West and Lathan Warlick Partnered Up to Record a Duet?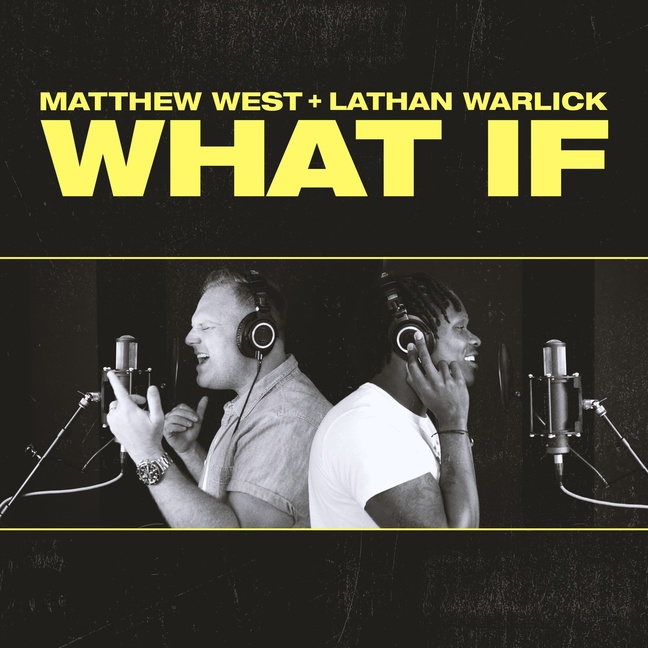 Check Out Their Version of West's Hit Song Out Now Accompanied By A Lyric Video; West Receives Four GMA Dove Award Nominations
13 August 2021 – Nashville, TN – Matthew West, a multi-award-winning songwriter and artist, has just dropped a new version of his hit single "What If" as a duet with multi-genre artist Lathan Warlick. A lyric video was also released and can be viewed below.
"I've become such a fan of Lathan!" West shares. "His talent is as unique as his story and I was blown away by what he brought to 'What If.' I can't wait for the world to hear this new version!"
Quickly becoming friends, West also welcomes Warlick as his latest guest on The Matthew West Podcast, now in its second year. Set to air next week as the second episode, the podcast is celebrating its one-year anniversary as well as an astounding one million downloads.
The original version of "What If," found on West's latest release Brand New, is currently rising at radio and has been its top-testing song for the past six weeks. West has also co-written three additional songs currently in the top 20: Casting Crowns' "Scars In Heaven," "My Jesus" from Anne Wilson, and "Look What You've Done" by Tasha Layton.
Just announced this week, West has been nominated for four GMA Dove Awards: Song of the Year ("Truth Be Told"), Songwriter of the Year (Artist), Inspirational Song of the Year (co-writing "There Is A God" for Phillips, Craig & Dean), and for Short Form Video of the Year ("Truth Be Told"). The 52nd Annual GMA Dove Awards will be held Tuesday, October 19 in Nashville at Lipscomb University's Allen Arena and air Friday, Oct. 22 on TBN/Trinity Broadcast Network.
"What If" lyric video featuring Matthew West and Lathan Warlick
ABOUT MATTHEW WEST
Matthew West is a five-time GRAMMY nominee, a multiple ASCAP Christian Music Songwriter/Artist of the Year winner, and a 2018 GMA Dove Award Songwriter of the Year (Artist) recipient and has two RIAA® Gold-certified and a RIAA Platinum-certified singles. He has received an American Music Award, a Billboard Music Award, a K-LOVE Fan Award, and named Billboard's Hot Christian Songwriter of the Year. West also received a Primetime Emmy® Award nomination for Original Music & Lyrics for the title track for the feature film "The Heart of Christmas."
It was last month when the five-time GRAMMY® nominated singer, songwriter, and artist announced the release of his Brand New Deluxe Edition (Story House Collective/Provident Label Group). Encompassing 32 tracks, which includes live and acoustic versions along with the originals from the Brand New album, the deluxe version also offers West's individually released songs from the past year, "Take Heart," "Quarantine Life," and his duet with CMA Awards® winner and three-time ACM® Awards nominee Carly Pearce for "Truth Be Told." An exclusive Brand New Deluxe Edition through Apple Music also dropped last month, a specialized version including an additional 20 videos along with the 32 audio, live, and acoustic tracks. Brand New, which originally released last year, has already produced two back-to-back No. 1 radio singles, "The God Who Stays" and "Truth Be Told."
In addition to his own recording career, he has more than 130 songwriting credits to his name, including cuts by Rascal Flatts, Scotty McCreery, Michael W. Smith, Amy Grant, Mandisa, Danny Gokey, and others, along with back-to-back No. 1 songs by Casting Crowns including their single, "Nobody," which features West. He was also nominated for a GRAMMY Award in 2019 for Casting Crowns' song, "Only Jesus," as a songwriter. West also co-wrote Jeremy Camp's multi-week No. 1 song, "Keep Me In The Moment." In February 2020, he released his new studio album, Brand New, which produced the multiple-week No. 1 single, "The God Who Stays," and his most recent No. 1 single, "Truth Be Told." In August 2020 he launched his official podcast, "The Matthew West Podcast," on the Annie Downs' That Sounds Fun Network.
Adding author to his list of accolades, West has written five books to date: Give This Christmas Away, The Story Of Your Life, Forgiveness, Today Is Day One and Hello, My Name Is. He is also passionate about providing hope and healing through the power of prayer and story. Along with his father, Pastor Joe West, they founded POPWE, a non-profit ministry helping others to craft, share, and live a more meaningful life. Please visit popwe.org for more information. For all things Matthew, visit his site at MatthewWest.com.