18 Feb

Elevation Worship Releases New Song, "THIS IS THE KINGDOM"

CHARLOTTE, NC / NASHVILLE, TN (February 18, 2022) – Elevation Worship, multi-GRAMMY® nominated, multi-GMA Dove Award® winning, and Billboard No. 1 charting group, releases "This Is The Kingdom," the third single from their upcoming new album LION, releasing on March 4th. Listen to the new song and watch the video here.

The scripture-based track, "This Is The Kingdom," features worship leader Pat Barrett on this anthem directly lifting Scripture from Matthew 5. The Beatitudes lay the foundation for this ten-minute-long song that spills over into a second track filled with more spontaneous, free-flowing worship.

"Pat carries this song so personally that it's hands down one of my favorite tracks on the album," shares Chris Brown of Elevation Worship. "It was a beautiful moment the night of the recording and I'm happy that everyone gets to experience all 14 powerful minutes."

The 15-track collection is sprinkled with a blend of both high-energy power anthems and stripped-down intimate moments, unconventionally mixing studio selections and live recordings. Songs primed for Sunday morning sit side-by-side with offerings crafted for personal reflection.

The group will be kicking off their spring arena tour, Elevation Nights, on April 26. Each evening will bring the experience of Elevation Church to arenas, featuring a message from Steven Furtick and music from Elevation Worship. Tickets are on sale now. For more information, visit ElevationNights.com.

LION track listing:
1. Bye Bye Babylon (feat. Valley Boys)
2. What I See (feat. Chris Brown)
3. Same God (feat. Jonsal Barrientes)
4. LION (feat. Chris Brown & Brandon Lake)
5. This Is The Kingdom (feat. Pat Barrett)
6. This Is The Kingdom (Flow) [feat. Pat Barrett]
7. Dancing (feat. Joe L Barnes & Tiffany Hudson)
8. Water Is Wild (feat. Chris Brown & Brandon Lake)
9. Welcome Resurrection (feat. Chris Brown)
10. Forever YHWH (feat. Tiffany Hudson)
11. No One (feat. Chandler Moore)
12. You Really Are (feat. Chandler Moore & Tiffany Hudson)
13. Why (feat. Valley Boys)
14. The One You Love (feat. Chandler Moore)
15. Might Get Loud (feat. Chris Brown, Brandon Lake, & Tiffany Hudson)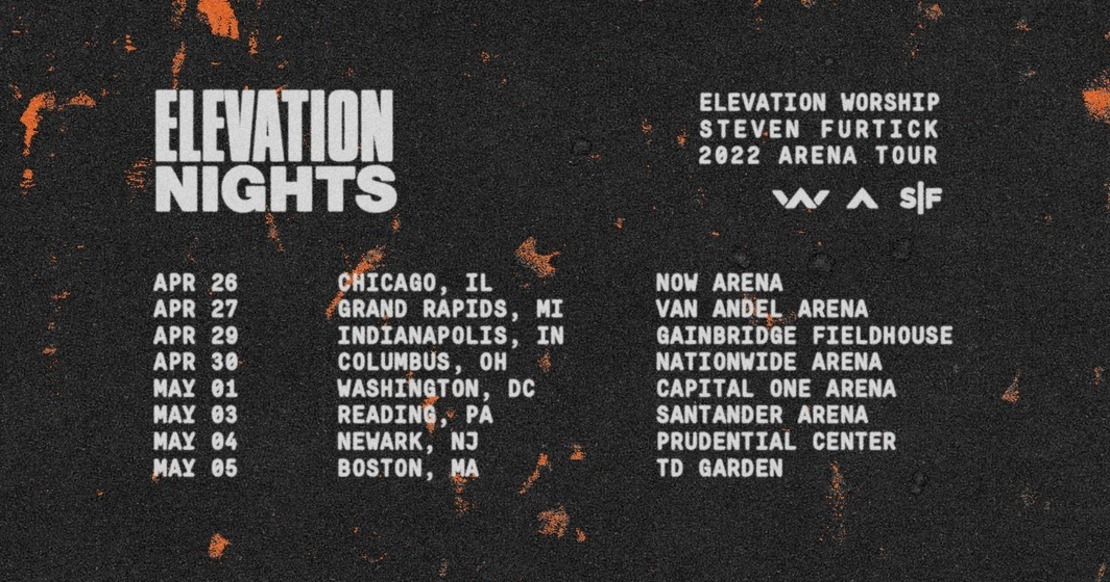 ABOUT ELEVATION WORSHIP: Elevation Worship is the worship ministry of Elevation Church, a multi-site church based in Charlotte, N.C. led by Pastor Steven Furtick. Elevation Worship has produced 13 albums that include American Christian radio No. 1 songs "Graves Into Gardens" and "RATTLE!," the RIAA Gold®-certified song "The Blessing," RIAA Platinum®-certified and American Christian Radio Top 5 song "O Come to The Altar," and the RIAA Gold-certified song "Do It Again." Their latest album, Old Church Basement, a live album collaboration with Maverick City Music, was released in 2021 to wide acclaim. The group currently has ten songs on the CCLI Top 100 list. The ministry of Elevation Worship is passionate about producing songs for the local church that connect others to God. Their main priority is to create an atmosphere of worship so people can encounter Jesus in a real and personal way. For more information, please visit ElevationWorship.com.