17 Jun

SWITCH DROPS BETTER VIEW DELUXE ALBUM TODAY

17 June 2022 – Oklahoma City, OK / Nashville, TN – Switch releases their Better View Deluxe album today (Sony Music/Provident's Essential Worship). In addition to the songs from Better View, Part I and Better View, Part II, the deluxe edition offers two new tracks, "All Day Long" and "This Is The Love," never-before-heard acoustic versions of "Better View" and "If U Only Knew," and a radio edit of "perfection."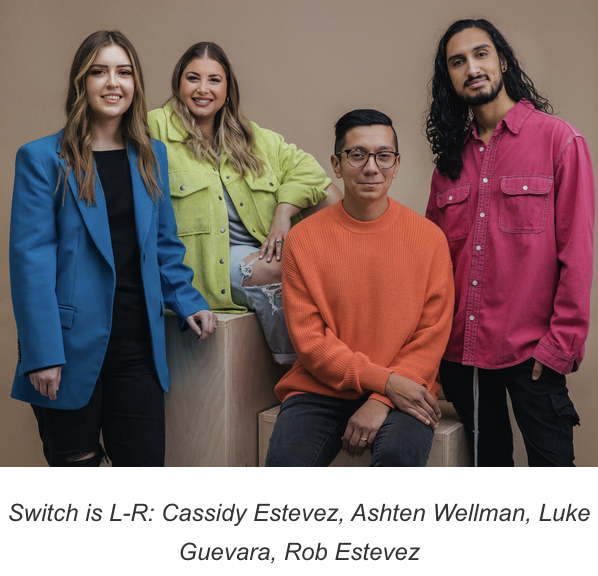 "We're passionate about creating meaningful music that meets people in the middle of life's difficulties and shines a light on the truth of the Gospel," said Switch's Cassidy Estevez. "We hope this collection of songs helps listeners understand that God loves them and He's with them through every moment—from seasons of doubt to mountaintop experiences and everything in between."
Leading up to today's album release, the group released "This Is The Love" last month along with a lyric video. Earlier this week, Switch dropped the new music video for "perfection," see below to watch.
About Switch: Switch is a collective of worship pastors from Life.Church, a multi-site Christian church that meets in 42 locations in 12 states and globally at Life.Church Online. They are focused on creating modern music that helps listeners connect with and engage in a relationship with Jesus. After being named Billboard's 2019 Top New Christian Artist, the group released its debut full-length album, Symphony, in February 2020. Better View, Part I dropped in the fall of 2021, and Better View, Part II was released in the spring of 2022. For updates about Switch and to listen to the Better View project, visit life.church/switchmusic.