14 Oct

CAIN'S VIDEO OF "I'M SO BLESSED (BEST DAY REMIX)" GOES VIRAL, TRIO RELEASES THE SONG TODAY TO ANSWER THE CALL OF THEIR FANS

Currently On The Road With Casting Crowns And Anne Wilson On The Healer Tour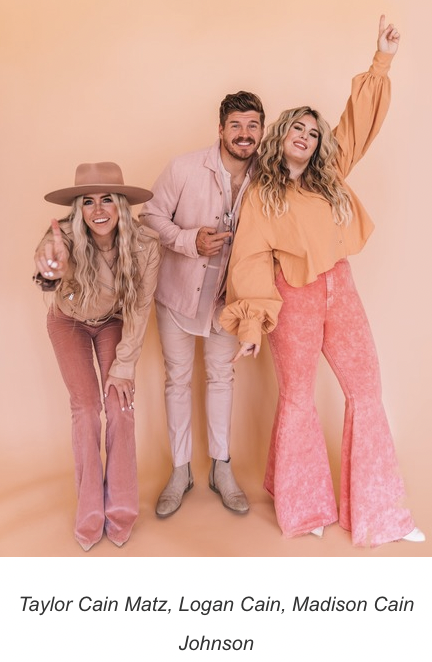 13 October 2022 – Franklin, TN – Sibling trio CAIN is so "blessed" to release "I'm So Blessed (Best Day Remix") today. Listen HERE. This new version of their current radio single was quickly created to answer the call of their listeners, thanks to the overwhelming response from the video they posted in late August on their social channels, which quickly went viral. Since then, it has had more than 10M combined views on CAIN's social channels and there have been more than 37,000 user-generated uses of the sound from the video, accounting for an additional 15M views.
Additionally, the band's following on Instagram and TikTok has grown by an incredible 150,000 followers, while streams of the song on DSPs are up 300% in that same time period. Be sure to check out the video on their IG and TikTok pages and the full audio of the remix below.
"I'm not a rapper and will never claim to be," Logan Cain states. "I just had a dream in my head one day of me rapping along to the song. I admit that I originally heard it in a Chance The Rapper tone, but I made up my own version and started doing it in our shows. What has been so great is that people were just connecting with the song's message, that your status as a child of the Most High is not conditional. When we were writing the song, that's exactly what we hoped the takeaway would be from its message."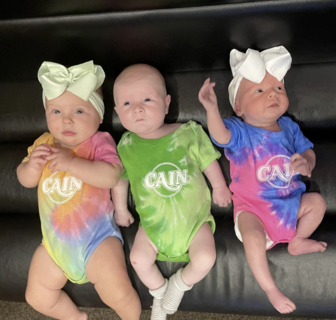 Logan continues, " It doesn't matter what day it is, if it's a random Tuesday or even your birthday, and it's not about having dollar signs in your eyes and sunglasses on at night. It's being blessed knowing that Jesus is mine and I am His. We're hoping that who we serve has the biggest say in how we serve them. We want the listeners to know that we're so grateful that you have connected with this song in such a major way. We heard you and we got this version out as quickly as we could!"
Along with the impact "I'm So Blessed (Best Day Remix)" is making, 2022 continues to be an exciting year for CAIN from touring around the U.S. to all three becoming parents for the first time (welcome new CAIN members River James Cain, Calloway Davy Johnson, and Stevie Jhett Matz, pictured above).
CAIN is also nominated multiple times at next week's GMA Dove Awards. Their album Rise Up received nods for Pop/Contemporary Album of the Year and Recorded Music Packaging of the Year, while their Christmas project, Wonderful, is up for Christmas/Special Event Album of the Year.
Logan, Madison, and Taylor continue on the road this fall where they are sharing "I'm So Blessed /Best Day Remix" along with many of their other hit songs on The Healer Tour with Casting Crowns and Anne Wilson this fall. Click here for the latest tour dates.
– # # # –
ABOUT CAIN: The music of CAIN quickly became a mainstay at radio since their debut single "Rise Up (Lazarus)" was released in early 2020. Raised in Hartselle, Alabama as pastor's kids and now residing in Nashville, CAIN – Madison Cain Johnson, Taylor Cain Matz, and Logan Cain – got their first break opening for Dave Barnes and Andrew Ripp at a show in 2012. A decade later they've performed at numerous sold-out dates on Zach Williams' Rescue Story Tour and will join the K-LOVE Christmas Tour in December, followed by TobyMac's Hits Deep Tour in Spring 2022. Additionally, they've hit No. 1 back-to-back at radio with their first two singles, "Rise Up (Lazarus)" and "Yes He Can," released their first full-length album Rise Up, and won a K-LOVE Fan Award for Top Breakout Single ("Rise Up (Lazarus)." They were also nominated for Best New Artist of the Year at the 52nd Annual GMA Dove Awards, where they also performed. They have also been nominated for a 2021 American Music Award (AMA).
It has been said that you if spend five minutes with the members of CAIN you'll feel like you've spent the afternoon in the sunshine. Their joy spills over onto each person they meet, their bright smiles as contagious as their stunning harmonies. Pouring their joy into their music, CAIN has discovered what it's like to live their calling while doing their favorite thing – singing about Jesus.
Visit CAINTheBand.com and their socials below for the latest information.