14 Jan

SIBLING TRIO CAIN RELEASE THEIR LIVE WORSHIP PROJECT, HONEST OFFERING;

Pre-Sale Begins Today, While First Single And Live Video Are Out Now;
CAIN's First-Ever Headlining Tour – Live And In Color – Kicks Off In March

13 January 2023 – Nashville, TN – 2022 was quite a year for the award-winning sibling trio CAIN, and 2023 is set to be even busier with new music out next month and their first headlining tour kicking off this spring.

CAIN's anticipated project Honest Offering, their six-song live worship EP, drops February 24 (Sony Music/Provident Entertainment). The project's pre-sale begins today (click HERE for more information) and is accompanied by the first single, "Friend In Jesus." Listen HERE. Also, be sure to view the just-released live video recording of "Friend In Jesus" below.

Honest Offering features the writing of award-winning songwriters and artists including Chris Tomlin, Jason Ingram, Ethan Hulse, Micah Kuiper, Nick Schwarz, Jonathan Smith, and Mitch Wong. Wong also shares his vocals on "Shine On Us" while David Leonard appears on "Blessed Assurance." Touted as their most personal collection of songs yet, the album was produced by Jonathan Smith, Brad King, and David Leonard and was recorded live at Nashville's legendary Ocean Way Studio.

Honest Offering is also a project CAIN has been wanting to make since their childhood, especially as teens when the Cain family would host high school Bible studies. "We'd pack so many in our family room and just sing to Jesus," Madison Cain Johnson shares. Now singing as their careers, the siblings knew it was time to record some of their favorite worship songs along with sharing a few new ones. "Our hearts need this," Madison says. "It's something that has been on our hearts to do and I can't believe we actually got to do it!" Taylor Cain Matz adds, "Everybody's heart for this is just right. We're ready!" Logan Cain includes, "This feels different to me than anything we've done before. It's so personal."

"We hope that this is a time that people can get lost in the songs and really connect with God," Madison concludes. "That is more than we can hope for, more than people just liking the songs or enjoying themselves. We really hope that people get to encounter the living God."

The members of CAIN are also ready to embark on their first-ever headlining tour this spring. Joined by Katy Nichole and David Leonard, the "Live And In Color Tour" will kick off in March. Click HERE for more information to find a city, and the assigned tour color, near you!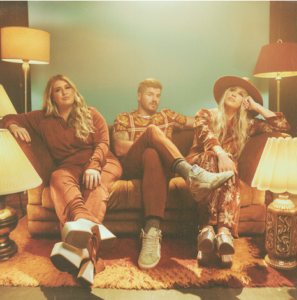 Honest Offering song listing:
1. Praise Opens Prison Doors
2. Honest Offerings/I Surrender All
3. Friend In Jesus
4. Blessed Assurance
5. Shine On Us
6. Awe Of You
ABOUT CAIN: The music of CAIN quickly became a mainstay at radio since their debut single "Rise Up (Lazarus)" was released in early 2020. Raised in Hartselle, Alabama as pastor's kids and now residing in Nashville, CAIN – Madison Cain Johnson, Taylor Cain Matz, and Logan Cain – got their first break opening for Dave Barnes and Andrew Ripp at a show in 2012. Now a decade later, they've toured with Zach Williams, Casting Crowns, TobyMac, on the K-LOVE Christmas Tour, and performed on the Grand Ole Opry stage. They are headlining their first tour, The Live And In Color Tour, this spring.
They've hit No. 1 back-to-back at radio with their first two singles, "Rise Up (Lazarus)" and "Yes He Can," both songs from their first full-length album Rise Up. They also won a K-LOVE Fan Award for Top Breakout Single ("Rise Up (Lazarus)." CAIN is also multi-nominated for the GMA Dove Awards (Best New Artist, Pop/Contemporary Album for Rise Up, Recorded Music Packaging for Rise Up, Christmas/Special Event Album for Wonderful). They have also been nominated for a 2021 American Music Award (AMA). Their new worship project, Honest Offering, is out February 24, 2023.
It has been said that you if spend five minutes with the members of CAIN you'll feel like you've spent the afternoon in the sunshine. Their joy spills over onto each person they meet, their bright smiles as contagious as their stunning harmonies. Pouring their joy into their music, CAIN has discovered what it's like to live their calling while doing their favorite thing – singing about Jesus.
Visit CAINTheBand.com and their socials below for the latest information.