26 Apr

AWARD-WINNING SIBLING TRIO CAIN RECEIVES THEIR FIRST RIAA GOLD CERTIFICATION

Live And In Color, CAIN's First Headlining Tour, Achieves Numerous Sellouts

26 April 2023 – Nashville, TN – There is no stopping award-winning band CAIN. Kicking off the year with new music and embarking on their first-ever headlining spring tour, they made their Grand Ole Opry debut and traveled to New York to appear on Fox & Friends and SiriusXM. While continuing their tour into May, CAIN is also readying to host the biggest fan-based awards show of the year, the K-LOVE Fan Awards, over Memorial Day weekend. What's even better? There is still so much more to come from the sibling trio – comprised of Madison Cain Johnson, Taylor Cain Matz, and Logan Cain – this year.

Their latest accolade, however, came as a surprise this past weekend. CAIN was awarded their first RIAA Gold® certification for their chart-topping single "Rise Up (Lazarus)." The group was presented gold plaques by their record label, surprising them during a recent concert held just outside of Nashville, to commemorate their achievement (photo below). Sharing collectively from their Instagram page, CAIN shares, "'Rise Up' has been special for us, and we're so thankful you've let it be part of your lives too. Thank you and thank you, Jesus!"

Holly Zabka, President of Provident Entertainment, adds, "I have had a front-row seat to witness the incredible, life-changing ministry and music of CAIN. The gold certification of their very first single, 'Rise Up (Lazarus),' is amazing to celebrate, but it is CAIN's heart behind all of their songs and their commitment to sharing the love of Jesus that we honor every day!"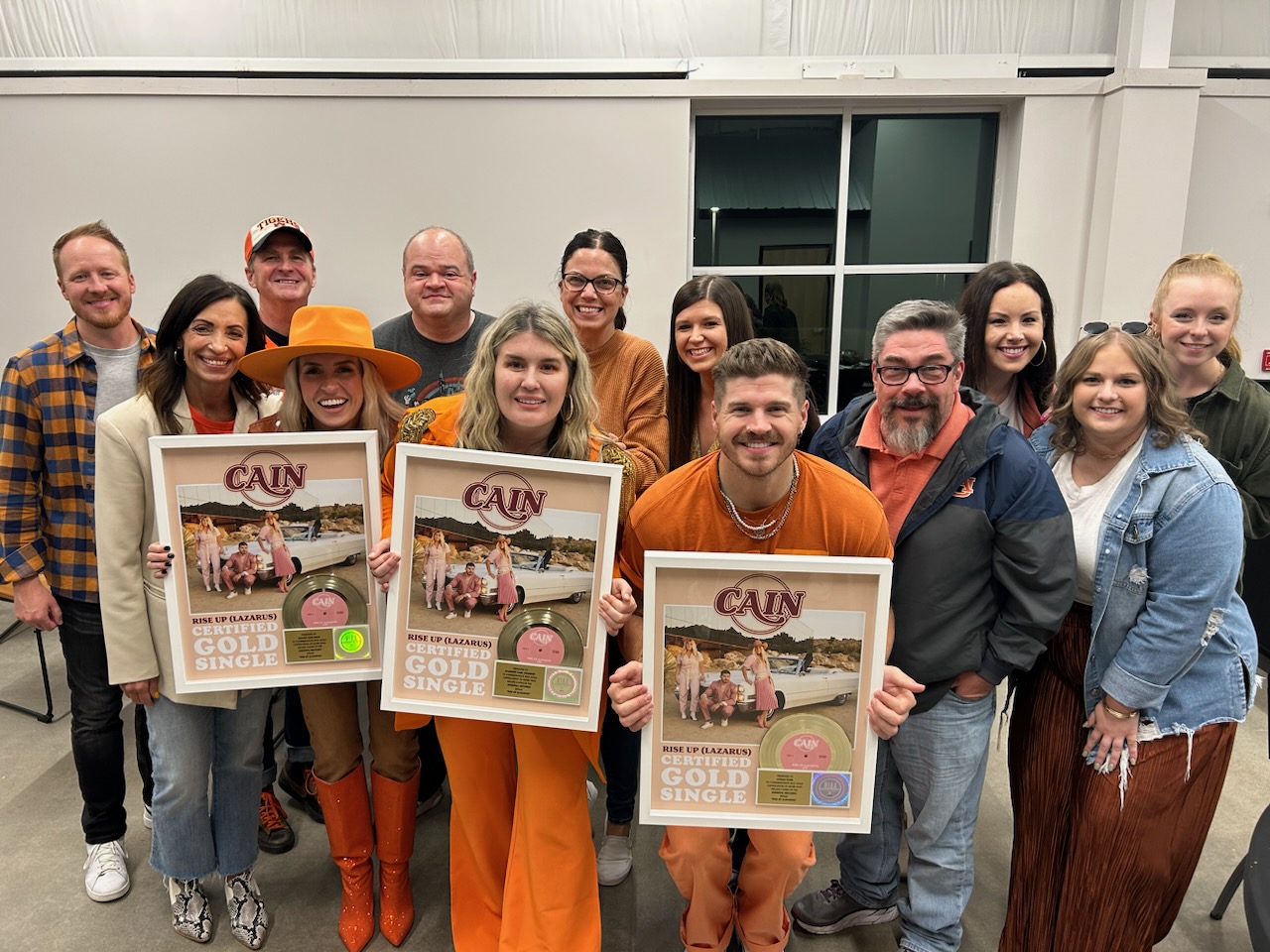 CAIN has been thrilled to share their songs live on the road during their "Live And In Color Tour." Since the tour kicked off in early March, they have had more than 20 sellout shows and with just eight concert dates left, many are close to selling out. Yet their greatest gift is getting to tour with their young children, making every tour stop an adventure with their growing families. Be sure to click HERE for more information to find a city and the assigned tour color near you, and to be ready for more touring news for the fall and into 2024.
CAIN's latest music project, Honest Offering, released in February, is a special compilation of worship songs they've been wanting to make since their childhood, especially as teens when the Cain family would host high school Bible studies. "We hope that this is a time that people can get lost in the songs and really connect with God," Madison says. "That is more than we can hope for, more than people just liking the songs or enjoying themselves. We really hope that people get to encounter the living God."
Thanks to Honest Offering, along with their album debut Rise Up and holiday EP Wonderful, their music has achieved four top 10 hits with two back-to-back No.1 songs ("Rise Up [Lazarus]" and "Yes He Can"). Additionally, their viral single "I'm So Blessed" took over the streaming front, amassing more than 1M streams for every week so far in 2023. Because of its social media popularity, more than 200,000 people have created their own videos using the music of "I'm So Blessed," accounting for 300M additional views on social media and growing their social media reach by 185%. To follow CAIN, visit their social media links below.
– # # # –
ABOUT CAIN: The music of CAIN quickly became a mainstay at radio since their debut single "Rise Up (Lazarus)" was released in early 2020. Raised in Hartselle, Alabama as pastor's kids and now residing in Nashville, CAIN – Madison Cain Johnson, Taylor Cain Matz, and Logan Cain – got their first break opening for Dave Barnes and Andrew Ripp at a show in 2012. Now a decade later, they've toured with Zach Williams, Casting Crowns, TobyMac, on the K-LOVE Christmas Tour, and performed on the Grand Ole Opry stage. They've been headlining their first tour, The Live And In Color Tour, during spring 2023.
They've hit No. 1 back-to-back at radio with their first two singles, "Rise Up (Lazarus)" and "Yes He Can," both songs from their first full-length album Rise Up. They won a K-LOVE Fan Award for Top Breakout Single ("Rise Up (Lazarus)" and were nominated for an American Music Award (AMA) in 2021. CAIN also received multiple nominations for the GMA Dove Awards in 2022 for Best New Artist, Pop/Contemporary Album for Rise Up, Recorded Music Packaging for Rise Up, and Christmas/Special Event Album for Wonderful. Their viral single "I'm So Blessed" from Rise Up quickly flew up the streaming front, amassing more than a million weekly streams for multiple weeks. Their new worship project, Honest Offering, is out now and they are hosting the 2023 K-LOVE Fan Awards over Memorial Day weekend.
It has been said that you if spend five minutes with the members of CAIN you'll feel like you've spent the afternoon in the sunshine. Their joy spills over onto each person they meet, their bright smiles as contagious as their stunning harmonies. Pouring their joy into their music, CAIN has discovered what it's like to live their calling while doing their favorite thing – singing about Jesus.