01 Jun

CAN YOU IMAGINE? – THE NEW ALBUM FROM GRAMMY® AWARD-WINNING GROUP ELEVATION WORSHIP – HITS NO. 1 ON BILLBOARD'S TOP CHRISTIAN ALBUMS CHART

Album's First Single, "More Than Able," Tops The Gospel Songs Chart; Featured Exclusively With Billboard;

Elevation Worship Will Perform On Fox & Friends Summer Concert Series July 14

1 June 2023 – Nashville, TN/Charlotte, NC – CAN YOU IMAGINE?, the new album from GRAMMY® Award-winning group Elevation Worship, has topped the Billboard Top Christian Albums chart this week. Their 16th career project, which is also their 7th album to hit No. 1, was released on May 19th and offers eight new live songs that were created to reignite the hearts of believers. Listen to the album HERE.

Additionally, "More Than Able," the album's first single, also tops the Hot Gospel Songs chart this week. The powerful anthem, led by Chandler Moore and Tiffany Hudson, sings the theme of the entire project:
"Can you imagine with all the faith in the room / what the Lord can do?
It's gonna happen just let the Way Maker through / He's gonna move
Anything is possible / Who am I to deny what the Lord can do?
You are more than able / Who am I to deny what the Lord can do?"

Sharing more about the project, Elevation Worship singer and songwriter Chris Brown explains, "We want someone to listen to this album and know that God is still writing their story. Our hope is that these songs will stir an awareness of His goodness."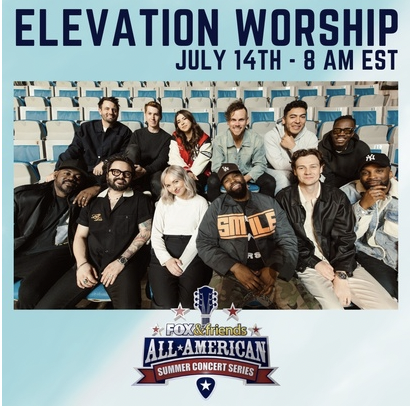 Featured in an exclusive with Billboard about the album's immediate success, Brown says, "We're blown away by the response to our new album and how it's pointing people to Jesus. It's reminding us that He is able to do immeasurably more than all we ask or imagine in and through our lives." View the full article HERE.
Brown and other members of Elevation Worship will be sharing their new songs as well as a few fan favorites when they appear live on "Fox & Friends' All American Concert Series" Friday, July 14th. You won't want to miss this very special concert event as they worship in New York City this summer. Find out more HERE.
– # # # –
ABOUT ELEVATION WORSHIP: Elevation Worship is the worship ministry of Elevation Church, a multi-site church based in Charlotte, N.C. led by Pastor Steven Furtick. They have released 16 albums that include four RIAA Platinum-certified songs: "Jireh," "O Come To The Altar," "Graves Into Gardens," and "Do It Again." The group also has seven RIAA Gold-certified singles including "The Blessing," "Here Again," and "Wait On You," joined by their RIAA Gold-certified album Here As In Heaven. Additionally, Elevation Worship has achieved three No. 1 radio songs, "Graves Into Gardens," "RATTLE!," and "Same God." The group currently has twelve songs on the CCLI Top 100 list. To date, they have 8.45B all-time global streams, as well as 5M YouTube subscribers and 5.35M monthly listeners on Spotify.
Their GRAMMY-winning album, Old Church Basement, is a live collaboration with Maverick City Music and was released in 2021 to wide acclaim. Elevation Worship recently celebrated their latest GRAMMY nomination for their album, LION, for the "Best Contemporary Christian Music Album" category. LION was also nominated twice for the 53rd Annual GMA Dove Awards. They've won six GMA Dove Awards and two Billboard Music Awards, and have received nominations for the American Music Awards, BET Awards, and K-LOVE Fan Awards.
The ministry of Elevation Worship is passionate about producing songs for the local church that connect others to God. Their main priority is to create an atmosphere of worship so people can encounter Jesus personally. Their most recent albums are LION (March 2022), LION: Live From The Loft (August 2022), and CAN YOU IMAGINE? just released on May 19, 2023.
Their live tour, "Elevation Nights," began in the fall of 2021 and has visited 32 cities throughout the U.S. and Canada, each stop sharing an unforgettable and life-changing evening with more than 311,000 in attendance to date. The 2023 spring tour with Pastor Steven Furtick brought in more than 75,000 attendees, and the Toronto stop was one of the largest ticketed events in Canadian history. It was recently announced that three new summer dates were added before the fall leg begins on Oct. 3 in Miami. Visit ElevationNights.com for the most updated tour schedule.
For more information, please visit ElevationWorship.com and their socials below.