26 Sep

People Loving Nashville Hosting The Inaugural HOPEFEST On Oct. 9th At War Memorial Plaza
A HOLISTIC HEALTH AND WELLNESS RESOURCE FAIR FOR THOSE EXPERIENCING HOMELESSNESS
NASHVILLE, TENN. – People Loving Nashville, a local non-profit organization that brings relief, community, connection, and restoration to the most vulnerable and unhoused in Nashville, along with The Contributor and a slew of other local organizations and non-profits, will host the first HopeFest on October 9th from 4 to 8PM at War Memorial Plaza. The holistic health and wellness resource event will bring tangible short-term and long-term resources from local businesses, services, and organizations for those experiencing or near experiencing homelessness. This event would not be possible without the support of the Tennessee Valley Authority Community Partnership.
For the last 15 years, People Loving Nashville has been serving the streets of the city every Monday night at the War Memorial Plaza by providing meals, clothing, and more. The HopeFest event is an extension of the regular night with combined resources from incredible organizations to help provide opportunities to care for the most vulnerable.
Resources available on October 9th include but are not limited to: Housing 101 Workshop, medical support, legal and financial assistance, job navigation, showers, meals, free clothing, and more. Organizations represented will include The Salvation Army, Office of Homeless Services, Step Up on Second, Shower Up, Shower the People, Soles 4 Souls, Tennessee Justice Center, Park Center, Uprise, and the Oasis Center.
"We pray this is an evening of hope and tangible next steps," shares Ryan Lampa of People Loving Nashville. "We hope to see the dignity of our community be revealed and energy in healthy directions. People Loving Nashville has never missed a Monday serving the community for the last 15 years. Continuing this tradition of relief, community, and connection to resources while increasing our reach of collaboration excites me and our partner organizations to bring us together and join forces for increased impact."
To join as a partner for HopeFest, visit here for more information.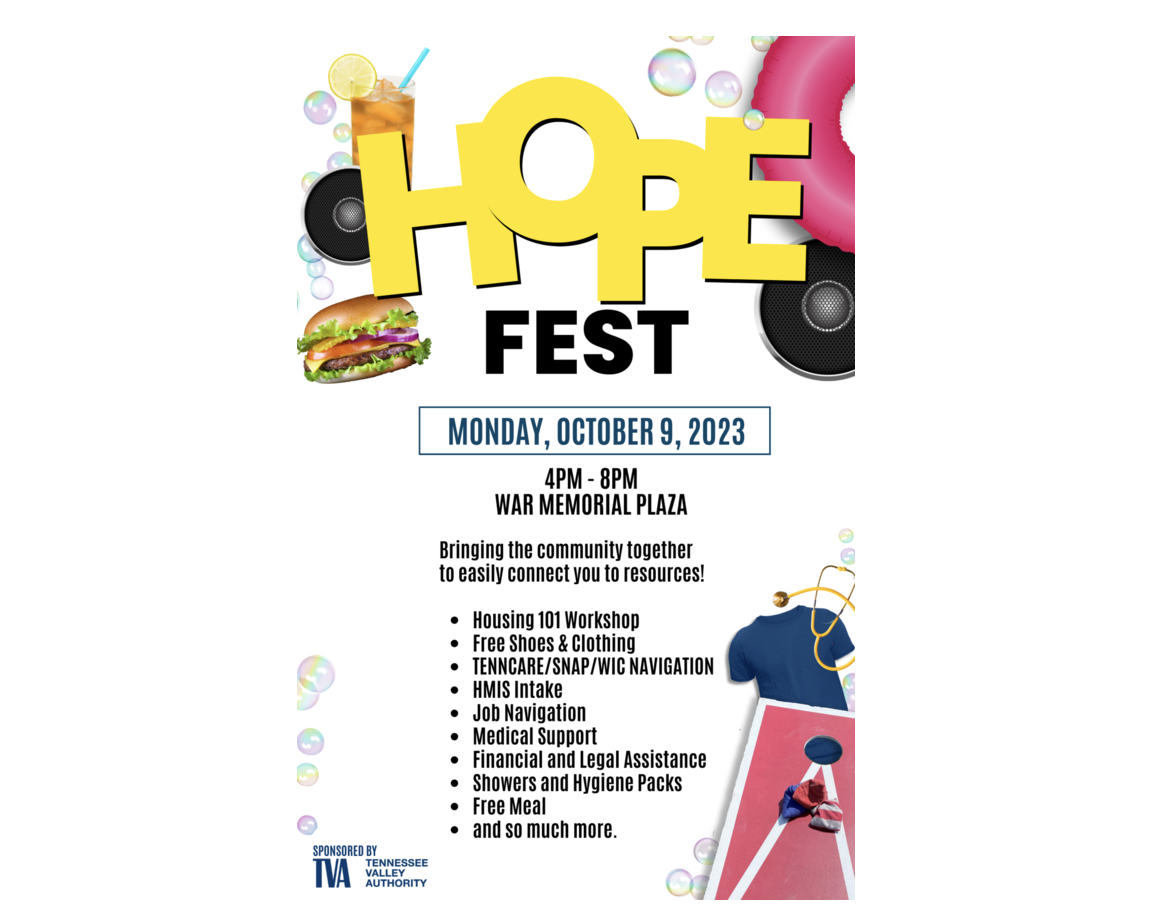 ABOUT PEOPLE LOVING NASHVILLE: People Loving Nashville was unintentionally established in 2008 when a group of friends shared several hot meals with some homeless individuals on a cold Thanksgiving night. The experience changed something in them, and they continued to bring supper downtown once a month. Once a month soon turned into a weekly tradition. From a two-burner stove in a bachelor pad to a commercially outfitted kitchen at church, PLN has continued to grow and expand, learning and maturing along the way, all against the backdrop of friendship.
Our skilled staff and trained volunteers seek to form relationships that bring a Christ-centered, evidence-based pathway to sustainable hope, healing, and restoration. We begin the process by assembling meals, preparing clothing and supplies for distribution to hundreds, and provide emergency response to serve the disenfranchised of our city in public spaces, low-income apartment complexes, homeless camps, and more, every weekday. The non-profit organization is celebrating its 15th anniversary this Thanksgiving.
For more information visit: peoplelovingnashville.com