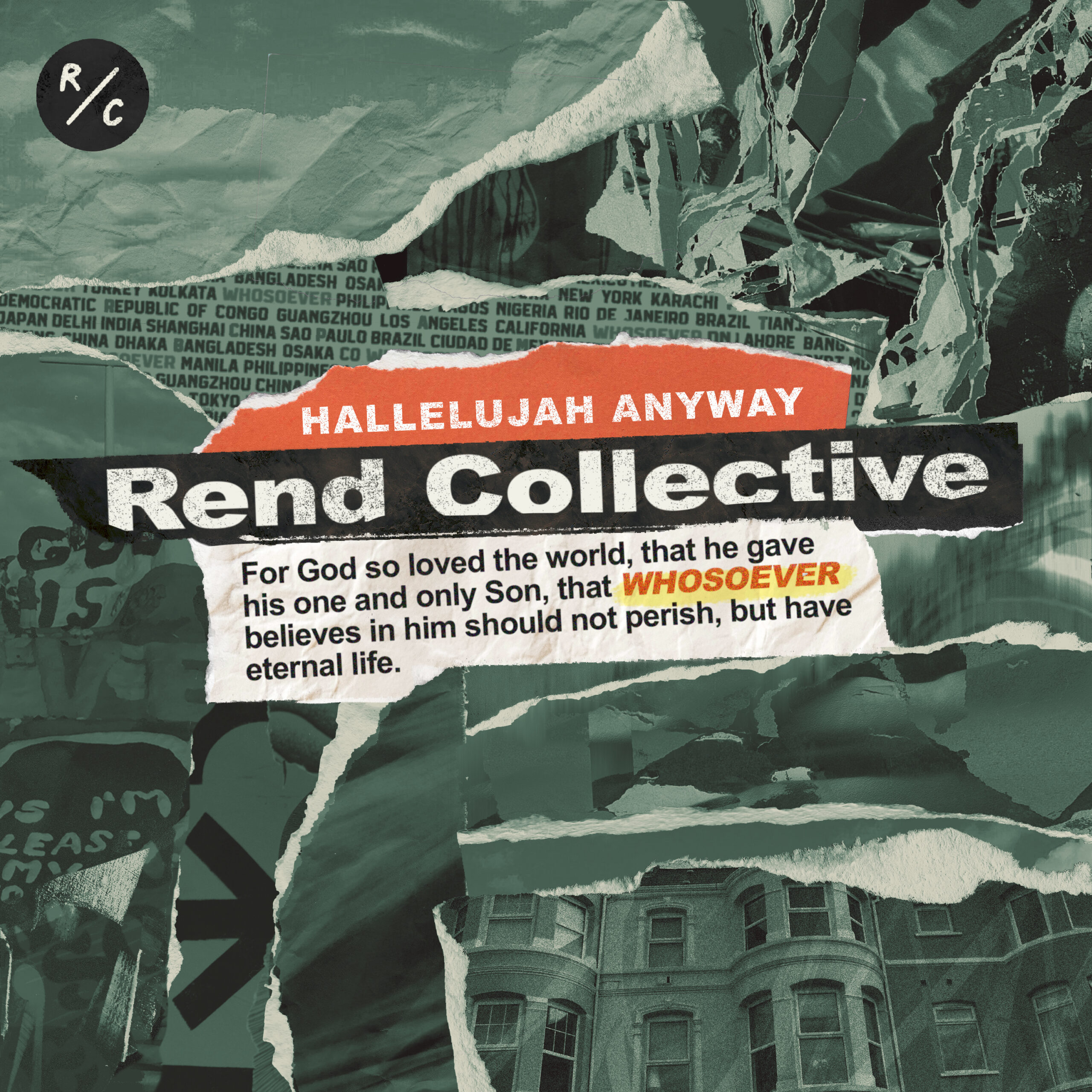 17 Nov

Rend Collective Announces New Music Today, The EP Hallelujah Anyway

Band Will Embark On A 34-City Spring Tour In The UK, Ireland, And U.S.

17 November 2023 – Nashville, TN – New music is here from Rend Collective. Today, the worship band from Northern Ireland drops the EP Hallelujah Anyway, (listen HERE) featuring two new versions of their current single of the same name, along with three previously unreleased songs – "Homesick," Beggars To Kings," and "Let It Roll (Live)". Additionally, a deluxe version of their 2022 album Whosoever, also drops today, featuring the new songs also included on the EP.

"We've always felt like our songs don't really come alive until we hear the church sing them back to us, and over the last year, we've heard thousands of people making 'Hallelujah Anyway' their anthem, striking a match of hopeful worship in the midst of heartbreak and chemo and all kinds of traumatic situations," the band collectively shares.

"We also wanted to give you a window into our studio experience," they add. "We wrote and recorded with our mate, Matt Maher, and when we heard his amazing vocals all over 'Hallelujah Anyway' in the writing room, it felt like you needed to hear it too! Thank you for making 'Hallelujah Anyway' such a special and significant song in our catalogue – we hope you feel the same way."

To date, the five members of Rend Collective have more than 750 million career streams, a No. 3 Billboard Top Christian / Gospel album debut with their album Choose to Worship, a Top 5 radio single with "Counting Every Blessing," and an RIAA Gold and Platinum single with "My Lighthouse." As an authentic worship experience, Rend Collective desires to continue to spread its music message around the world.

Throughout February up until the end of May, the band will embark on their Campfire: The 10th Anniversary Tour, visiting the U.K., Ireland, and the U.S. for 34 dates. Find the latest tour schedule and more information HERE.

– ### –
ABOUT REND COLLECTIVE: From a small, coastal town in Northern Ireland, Rend Collective forged a new palette for worship music. Trading synths for ukuleles and big halls for campfires, Rend Collective scuffed up the pristineness of modern worship, speaking directly to those who weren't knocking on the church's door. Now, they bring this same unique music to the world, leaving their sold-out audiences filled with joy, unity, and an authentic worship experience.
With career sales of nearly 800,000 albums, the group has seen many successes, including the radio hit "Counting Every Blessing" which hit the Top 5 on the National Christian Audience Chart, and their album Choose To Worship charted at No. 3 on the Billboard Christian Albums Chart in the first week of its release. The band has also been a part of several major tours with top artists such as Chris Tomlin, Kari Jobe, Lecrae, and Mercy Me. Find out more at RendCollective.com.
____________________
ABOUT CAPITOL CMG: Capitol Christian Music Group (CCMG) is the world's leading Christian Music company and market leader in recorded music and music publishing. CCMG operates several divisions, including CCMG Label Group, Sparrow Records, ForeFront Records, sixstepsrecords, Hillsong, Tamla Records, Jesus Culture, Motown Gospel, Commercial Partnerships, and CCMG Publishing. CCMG is home to artists Chris Tomlin, Amy Grant, TobyMac, Tasha Cobbs-Leonard, Tauren Wells, Jeremy Camp, Hillsong United, We the Kingdom, Tye Tribbett, Crowder, Anne Wilson, and many others.
Capitol CMG Publishing, in addition to publishing most of the CCMG labels' premier artists/writers, represents many of the leading writers in Christian/Gospel including Ben Glover, Ed Cash, Tommee Profitt, Kirk Franklin, Jeff Pardo, and many more. Key Distribution and Publishing Administration partners include Primary Wave/The Gaither Music Group, Centricity Music, Maranatha Music, The Belonging Co, and Getty Music. Led by Co-Presidents Brad O'Donnell and Hudson Plachy and a strong executive team of long-time Christian and Gospel music veterans, CCMG is characterized by a passionate commitment to their artists, songwriters, customers, business partners, and one another, as well as a strong spirit of community service.