12 Mar

Kari Jobe, Cody Carnes and Elevation Worship's Grammy®-Nominated Song, "The Blessing," Receives RIAA Gold Certification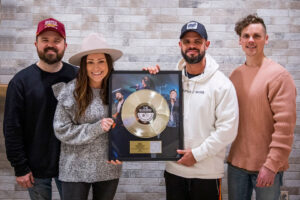 March 12, 2021 – Nashville, Tenn. – Last year, Kari Jobe, Cody Carnes and Elevation Worship gathered and co-wrote the song, "The Blessing," which quickly became a viral hit song around the world just days after recording and releasing it. Less than a year after the live video was released, it has more than 44.4 million views on YouTube, and the song has recently received RIAA Gold Digital Single certification. This global worship anthem of 2020 and most consumed song of the year is also nominated for Best Contemporary Christian Music Performance/Song at the 63rd annual GRAMMY® Awards taking place this Sunday.
"This song is very special," shares Kari Jobe. "I think my favorite thing about the song is hearing my babies sing it around the house. It brings great peace knowing that the very words God said to pray as a blessing still have 100% power today. God is kind and good. I pray this song continues to break through the noise and give a tangible sense of His presence every time it's played or sung."
The 2020 GMA Dove Award "Worship Song of the Year" has also reached No. 1 at Worship Together, MultiTracks, Praise Charts, Song Select and Planning Center and No. 11 on the latest CCLI report. Digital platforms have also supported the worldwide momentum as it has been included on Spotify's US Viral 50 (playlist) and Global Viral 50 playlists in 11 different countries. It was also one of Pandora's Top 50 Most Thumbed-up songs of 2020.
Chris Brown of Elevation Worship notes about the unique growth of this song, "There was a whirlwind of momentum and emotion attached to this song from the day we wrote it to quickly releasing it a week later. And it's been remarkable to see how God's used 'The Blessing' to encourage people all over the world during such a strange and difficult year. I pray it continues to bring hope to families for generations to come."
With more than 41 different versions and languages globally, "The Blessing" has topped the charts in 34 countries and Top 5 in 77 countries on Apple Christian and Gospel genre charts. The song has been sung in Spanish, Portuguese, Hebrew, German and French cumulatively producing more than 43.2 million YouTube streams as well as successful covers coming from Africa and Southeast Asia. "The Blessing" has been one of the most covered Christian songs on YouTube, with versions representing over 128 countries worldwide.
"It's the honor of a lifetime to be a part of the journey of this song – from the moment it was written to seeing it impact almost every nation and language across the world in just a few short months," explains Cody Carnes of the song's global impact. "I've been so encouraged by it in this challenging season of life. Not only by the truth from the scriptures in this song, but also by watching what God can do to bring encouragement and comfort to His people in a season of overwhelming fear and tragedy."
"The Blessing" was featured on both Kari Jobe's latest record The Blessing (Live) and Elevation Worship's record Graves Into Gardens. More than 500,000 copies of the Capitol CMG/Elevation Worship Records/Essential Worship song has truly been a testament of the power of the message during a global pandemic. 
Story Behind The Song
The song was written at Elevation during a writing session with Jobe, Carnes and Elevation's Steven Furtick and Chris Brown searching for the presence of God. It was written on a Thursday and that following Sunday they sang it for the first time at the Elevation Ballantyne campus and released the video five days later worldwide. Shortly after posting the live music video, it was clear this was a very special song as visible in the live taping.
ABOUT KARI JOBE
For nearly two decades, well-respected worship leader Kari Jobe has been using her gifts to lead people into the presence of God. When she began leading worship at age 13, she never imagined she would be nominated for two GRAMMY® awards, win multiple Dove Awards, have two RIAA Gold Certified singles or be praised by the New York Times. She has sold more than 1.6 million albums (TEA) in her career and has over 1.3 billon career global streams. She also has more than 1.1 million YouTube subscribers and over 303 million video views. Originally from Texas and now residing in Nashville with her husband Cody Carnes and their two boys, Canyon and Kingston, and they both serve at their home church The Belonging Co. 
ABOUT CODY CARNES
Cody Carnes is a worship leader who is passionate about creating space where innovative artistry and authentic worship can collide. As a songwriter, he's penned powerful church anthems like "Nothing Else," "Run To The Father" and "Christ Be Magnified," which are all part of his recently released and GRAMMY-nominated album, Run To The Father (Capitol CMG). Carnes currently has four songs in the CCLI Top 100, more than 215 million career global streams with 138k YouTube subscribers and over 34 million views. Originally from Texas and now residing in Nashville with his wife Kari and their two boys, Canyon and Kingston, and they both serve at their home church The Belonging Co. 
ABOUT ELEVATION WORSHIP
Elevation Worship is the worship ministry of Elevation Church, a multisite church based in Charlotte, N.C. led by Pastor Steven Furtick. Elevation Worship has produced 10 albums that include the RIAA Platinum Certified and American Christian radio Top 5 song "O Come to The Altar" and the RIAA Gold Certified song "Do It Again." The group currently has nine songs in the CCLI Top 100 list. This ministry is passionate about producing songs for the local church that connect others to God. Their main priority is to create an atmosphere of worship so people can encounter Jesus in a real and personal way. Elevation Worship's new album, Graves Into Gardens, released May 1, 2020.