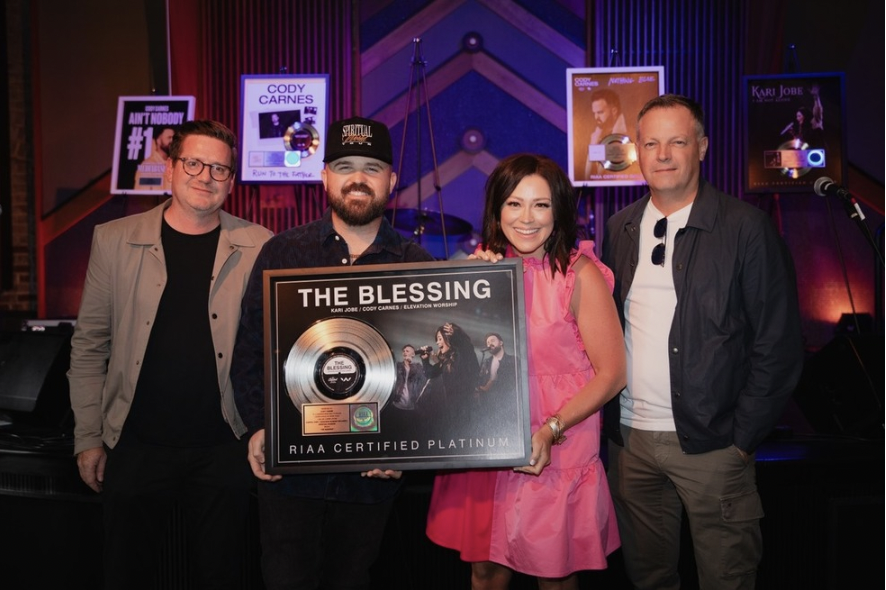 28 Jul

THREE-TIME GRAMMY®-NOMINATED CODY CARNES GEARS UP FOR NEW ALBUM, FIRM FOUNDATION, RELEASING AUGUST 25TH

NEW SONG, "BLESS GOD," IS AVAILABLE TODAY

CARNES RECEIVES HIS FIRST SOLO RIAA GOLD CERTIFICATIONS; HONORED WITH RIAA PLATINUM CERTIFICATION FOR "THE BLESSING"

NASHVILLE, TENN. (JULY 28, 2023) Three-time GRAMMY®-nominated artist Cody Carnes releases a new song, "Bless God," from his forthcoming album, Firm Foundation, which will release next month on August 25th. The live performance video for "Bless God" is premiering today, click here.

Inspired by Psalm 34:1 – I bless God every chance I get. My lungs expand with His praise – this song was co-written by Carnes, Brooke Ligertwood, and Brandon Lake.

"God is worthy of praise in every season," shares Cody Carnes. "Sometimes it's easy when things are going well, and sometimes it's really hard when things aren't going the way you would like, and in those times, like David in the Psalms, I have to command my soul to praise the Lord. I've learned that we're meant to pass through the hard seasons, we're not meant to set up camp there. And praise helps us pass through. This song is meant to help in that passing through, blessing God in every situation."

The new album, Firm Foundation, was captured last summer during a two-night live worship event at his church home base, The Belonging Co., in Nashville. The special event produced his first-ever live album, God Is Good!, which was released last year and produced his first radio No. 1 single "Ain't Nobody."

Carnes has also recently been awarded his first solo RIAA Gold Certifications for his impactful songs, "Run To The Father" and "Nothing Else." He also received his first RIAA Platinum Certification for the massive 2020 worship anthem, "The Blessing," which he co-wrote with his wife and worship leader Kari Jobe and Elevation Worship. The song also received a GRAMMY nomination and was Song of the Year" (2021) and "Worship Song of the Year" (2020) at the GMA Dove Awards.

Wrapping up summer, Carnes will be on the Summer 2023 tour with Kari Jobe, Leeland, Bryan & Katie Torwalt, and Sean Curran. The "Blessing Tour" with Kari Jobe will pick up again this fall for the Europe and UK dates. Click here to see all of his upcoming tour dates.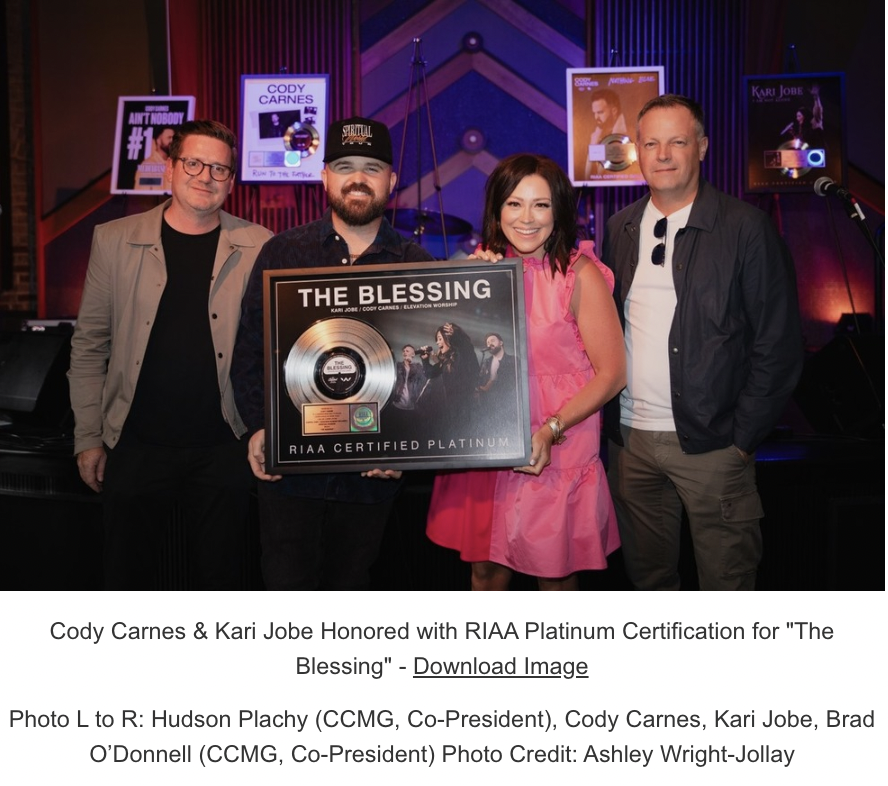 ABOUT CODY CARNES: Cody Carnes is a worship leader who is passionate about creating spaces where innovative artistry and authentic worship can collide. Since releasing his solo label debut project in 2017, Carnes has continued to impact the worship music genre with powerful church anthems like "Nothing Else," "Run To the Father," and "Christ Be Magnified." In 2020, he released his studio album, Run To The Father, which earned him his first GRAMMY Award nomination. He also received GRAMMY nominations for "The Blessing" and the album The Blessing (Live) for the 63rd and 64th Awards, as well as "The Blessing" being named "Song of the Year" (2021) and "Worship Song of the Year" (2020) at the GMA Dove Awards. In 2022, he released his first ever live project, God is Good!, which also produced his first No. 1 radio single, "Ain't Nobody," and received a K-LOVE Fan Award nomination. In 2023, he received his first solo RIAA GOLD Certifications for his songs, "Run To The Father" and "Nothing Else." He is originally from Texas but now resides in Nashville with his wife, Kari Jobe, and their two boys, Canyon and Kingston, The Carnes also both serve at their home church The Belonging Co. in Nashville.