07 Nov

THE WELCOME WAGON ANNOUNCES NEW ALBUM ESTHER TO BE RELEASED ON NOVEMBER 4TH VIA ASTHMATIC KITTY RECORDS

New Single "Isaiah, California" Is out Now

NASHVILLE, TENN (SEPTEMBER 7th, 2022) The Welcome Wagon is thrilled to announce their new album Esther set for release November 4th via Asthmatic Kitty Records. The indie-folk duo is comprised of Vito Aiuto, a Presbyterian minister who pastors a small church in Brooklyn, and his wife Monique Aiuto. Esther is their fourth full-length album and marks the return to Asthmatic Kitty Records, the label on which they began their musical journey. As a preview they released the first single "Isaiah, California" off the album that is out now. The single can be streamed here.

Esther was born out of a wellspring of creativity and homecoming, exploring the profound knowing and equally profound mystery in both family and faith. In Esther, the questioning is the destination, and it is one where peace can be found and home—and art—can be made.

Click HERE to listen to "Isaiah California"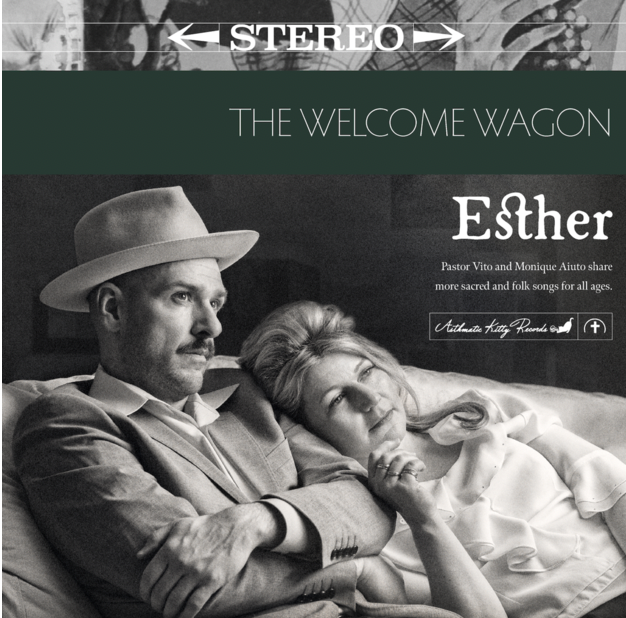 ABOUT THE WELCOME WAGON: The Welcome Wagon is a married couple, the Reverend Thomas Vito Aiuto and his wife Monique, who execute a genre of gospel music that is refreshingly plain. Their hymns are modest and melodic takes on a vast history of sacred song traditions, delivered with the simple desire to know their Maker—and to know each other—more intimately. Read more about The Welcome Wagon here.