02 Feb

STEVEN CURTIS CHAPMAN SIGNS WITH ONE:EIGHT ENTERTAINMENT FOR EXCLUSIVE MANAGEMENT REPRESENTATION

His 24-City "Still Tour" Kicks Off In March

1 February 2023 – NASHVILLE, TN – It was announced that Steven Curtis Chapman, the most-awarded artist in Christian music history, has signed with one:eight entertainment for management representation. The news was exclusively shared courtesy of Billboard.

"I'm very blessed to have been surrounded and supported by great people throughout my career, and I couldn't have hoped for a better team around me for this new season," says Steven Curtis Chapman, a five-time GRAMMY Award winner and recipient of the BMI Icon Award.

one:eight entertainment is helmed by industry veteran Greg Ham. In his outstanding career, Ham has served as former President/CEO of ForeFront Records and most recently as a partner in the MWS Group, representing Michael W. Smith, CeCe Winans, and Olympian Scott Hamilton, among others. Ham and his team at one:eight entertainment will continue to represent these clients along with award-winning producer/director Robert Deaton and artist/worship leader Charity Gayle.

Chapman adds, "Greg, who has been a long-time valued friend, brings years of seasoned wisdom and unrivaled knowledge and experience, and Alex, who has been a part of my management team for the last several years, brings great passion and energy. The whole team is world-class and I'm honored and excited to work with them!" Chapman was formerly managed by The Stable Collective following his 28 year-partnership with Creative Trust.

"We are thrilled that Steven has entrusted this season to one:eight for his management," Greg Ham shares. "It's been a privilege to call him a friend for many years and we are excited to see what this collaboration will produce."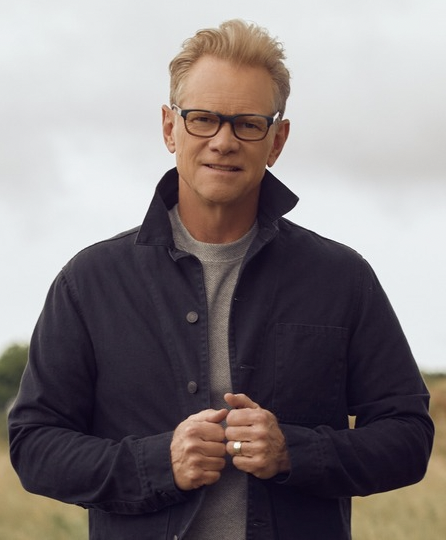 The news comes on the heels of Chapman's latest project, Still, out now courtesy of Provident Entertainment/Sony Music. With his new songs, Chapman openly shares a willingness to shine a light on his pain and struggles, as well as his faith, joy, redemption, and hope. He says, "After a lot of wrestling, I finally had to just block out the questions about what felt or sounded relevant, or how is new music from me going to fit in the current landscape of Christian music. I had to silence those voices in my head, sit down with my guitar, and sort of give myself permission to just write whatever was stirring in me, let it come out however it came out."
The album's first radio single, "Don't Lose Heart," was inspired by Chapman's own journey through the shadowed valley of grief and loss that he and his family have traveled. Its hopeful yet unmasked honesty and truth have quickly connected with listeners and have taken the song up the radio charts, which is currently at No. 9 on Billboard's Christian Airplay chart.
Eager to share the new songs live, Chapman is hitting the road this spring on his 24-city "Still Tour." Kicking off March 2 in Springfield, Missouri, be sure to check out the most updated tour schedule HERE.
ABOUT STEVEN CURTIS CHAPMAN: In a career that has spanned more than three decades, Steven Curtis Chapman is the most-awarded artist in Christian music history. With 59 Gospel Music Association Dove Awards, five GRAMMY® Awards, an American Music Award, and 49 No. 1 singles, he has sold more than eleven million albums with ten RIAA-Certified® Gold or Platinum albums to his credit.
Over the years he has collaborated with and had his songs recorded by other renowned artists in the Christian music world including BeBe Winans, CeCe Winans, Amy Grant, Casting Crowns, Mercy Me, Geoff Moore, and others. His songs of hope have also crossed genres, seeing collaborations with Billy Dean, Glenn Campbell, Gary LeVox of Rascal Flatts, Ricky Skaggs, Brad Paisley, and Lauren Alaina. In 2017, Chapman also became a best-selling author with his memoir Between Heaven and the Real World: My Story.
He is also the recent recipient of the BMI Icon Award. Given to him in June 2022, Chapman is the first Christian music songwriter to receive the honor, joining an elite list that includes Barry Manilow, Brian Wilson, Carole King, Dolly Parton, Kris Kristofferson, Merle Haggard, and Sting.
Along with touring the world, Steven Curtis Chapman has appeared on Good Morning America, CBS Sunday Morning and This Morning, CNN, MSNBC, 60 Minutes, E! Entertainment, The Today Show, Fox & Friends, and The Tonight Show among others, along with appearing in the pages of People Magazine, Billboard, Parents Magazine, and more. As a vocal supporter of adoption, Chapman along with his wife Mary Beth founded Show Hope in 2003, a nonprofit organization that helps restore the hope of a family to orphans.
For more information, please visit StevenCurtisChapman.com and his social links below.