19 Jul

CAIN DROPS A NEW SONG AND VIDEO, "WINDOWS DOWN," THEIR MOST PERSONAL YET;

The Fall Leg Of Their Live And In Color Tour Is On Sale Now

17 July 2023 – Nashville, TN – The award-winning sibling trio CAIN is honored to share their most personal song to date. Titled "Windows Down," the song and accompanying music video just released yesterday. Listen HERE. CAIN, comprised of Taylor Cain Matz, Madison Cain Johnson, and Logan Cain, was inspired to write and record "Windows Down" from the true story of God's redeeming love in the life of Logan's wife, Emily. Emily is also featured in the music video.

Emily, in the grips of alcohol addiction, had an encounter with God in her car that left her completely changed and began her road to sobriety. CAIN chose to release this song on July 16th, the five-year anniversary of that event, to celebrate Emily's salvation story and to remind us all that God can meet us in unlikely places. Emily will celebrate five years of sobriety this fall.

"From the beginning, it was our goal to tell Emily's story but tell it in a way where everybody can sit in that driver's seat," Logan Cain explains. "We want this story to belong to everyone, most importantly."

He adds, "'Windows Down' shares the age-old tale of a God who relentlessly pursues us and along the way, will put things in front of us that maybe we don't recognize as Him trying to get our attention until ultimately and undeniably, it's God, putting Himself right in our path, saying, 'I'm here!' We just can't wait for people to hear this song and see the video!"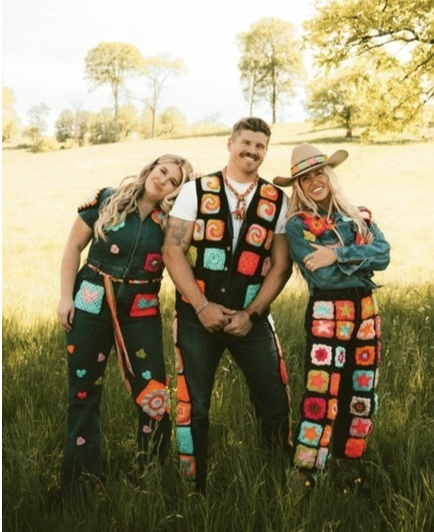 The poignant "Windows Down," along with the previously released song "Any More," will both be included on CAIN's upcoming album slated to release this fall. Additionally, the group will be sharing many previous hits along with new songs on the fall leg of their CAIN Live & In Color Tour.
Selling out 22 shows during their first-ever headlining tour this past spring, CAIN has added 33 new dates for the fall. Presented by World Vision and promoted by Premier Productions, songwriter and artist Katy Nichole and GRAMMY® nominee singer, songwriter, and producer David Leonard will again join the tour, which begins Wednesday, September 20 in Baton Rouge, LA.
"This fall, we are coming to 33 cities across the U.S.," Taylor Cain says. "We were inspired to name the tour Live & In Color because wearing matching colors has become part of our tradition. We want the audience to join us in wearing the chosen color for each night and together we create a family experience for everyone." Every tour stop is guaranteed to bring fun and entertainment as well as ministry, worship, and a chance to encounter the presence of God." To stay up to date on their tour dates and to find out more about CAIN, click HERE and visit their social links below.
– # # # –
ABOUT CAIN: The music of CAIN quickly became a mainstay at radio since their debut single, the RIAA Gold® certified "Rise Up (Lazarus)," was released in early 2020. Raised in Hartselle, Alabama as pastor's kids and now residing in Nashville, CAIN – Madison Cain Johnson, Taylor Cain Matz, and Logan Cain – got their first break opening for Dave Barnes and Andrew Ripp at a show in 2012. Now more than a decade later, they've headlined their own tour, along with sharing the stage with Zach Williams, Casting Crowns, TobyMac, the K-LOVE Christmas Tour, and performed on the Grand Ole Opry stage. The group also hosted the 2023 K-LOVE Fan Awards. CAIN will continue their headlining tour in the fall of 2023, the "Live And In Color Tour."
They've hit No. 1 back-to-back at radio with their first two singles, "Rise Up (Lazarus)" and "Yes He Can," both songs from their first full-length album Rise Up. Additionally, their viral single "I'm So Blessed" took over the streaming front, amassing more than 1M streams for every week so far in 2023. Because of its social media popularity, more than 200,000 people have created their own videos using the music of "I'm So Blessed," accounting for 300M additional views on social media and growing their social media reach by 185%.
In their career to date they've won a K-LOVE Fan Award for Top Breakout Single "Rise Up (Lazarus)" and were nominated for an American Music Award (AMA) in 2021. CAIN also received multiple nods for the GMA Dove Awards in 2022 for Best New Artist, Pop/Contemporary Album and Best Recorded Music Packaging for Rise Up, and Christmas/Special Event Album for Wonderful. Their viral single "I'm So Blessed" from Rise Up quickly flew up the streaming front, amassing more than a million weekly streams for multiple weeks. Their latest project, their worship EP Honest Offering, is out now, and a new album is slated for this fall, Jesus Music (Sept. 22, 2023).
It has been said that you if spend five minutes with the members of CAIN you'll feel like you've spent the afternoon in the sunshine. Their joy spills over onto each person they meet, their bright smiles as contagious as their stunning harmonies. Pouring their joy into their music, CAIN has discovered what it's like to live their calling while doing their favorite thing – singing about Jesus.